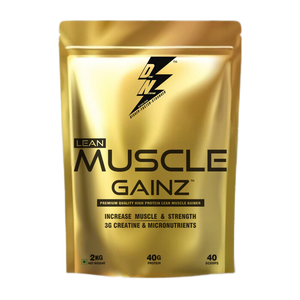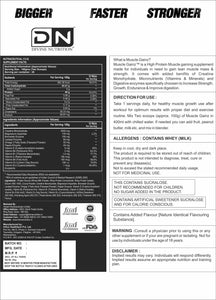 Description:
Muscle Gainz – A high quality Premium Lean Muscle Gainer that helps you increase your overall protein intake with adequate amount of calories required to increase muscle mass & strength.
Muscle Gainz each serving is power packed with 40g of Protein, 43g of Carbohydrates, 3g of Creatine Monohydrate & 9 Essential Nutrients. This combination helps in rapidly building Muscle mass & Strength while also improving recovery & overall exercise performance.
It comes with optimally dosed digestive enzymes which improve digestion & absorption of the nutrients even when taken along with a meal. This prevents bloating which is associated with most gainers since they are highly dense in calories.
Disclaimer:
All images are for representation purpose only and the actual product may differ.
Benefits
Lean Muscle Gain
Improves Strength & Recovery
High Quality Protein
3g Creatine & 9 Essential Nutrients
Recommended Consumption:
1 serving daily for maximum muscle growth
Must be consumed after workouts for optimum results
Can be consumed at any time
Must be consumed along with a proper diet and workout regime
Directions:
Mix two scoops (approx. 100 g) of Muscle Gainz in 350 ml of chilled water/skimmed milk
Add your favorite fruits/peanut butter as per your preference
Mix it in a blender; consume
FAQ
Hunk Gainer ™ is a high Calorie & high Quality supplement with added Digestive Enzymes to help you put on healthy muscle mass & Increase strength.
Muscle Gainz is carefully created to meet specific requirements of Muscle & Strength gaining. We have made sure to optimally dose Protein, Carbohydrate & Vital Nutrients so that the users can get the best results they worked hard for. Muscle Gainz has 40g of Protein, 43g of Carbohydrate , 3g Creatine, 9 Essential Nutrients (Magnesium, Omega 3, Vitamin E, B6, B1, A, B9, D3 & B12) and Digestive Enzymes (Bromelain, Papain & Lactase). They all together helps in increasing Muscle Mass, Recovery & Build Strength. Muscle Gainz can be taken Post workout or before sleep. Individuals can even spilt a serving into two by taking 1 scoop after workout and 1 scoop before sleep.
HUNK LEAN MUSCLE GAIN
Very nice product super Quality 1 No BCAA
SHAKER QUALITY SUPER TRY THIS DIVINE NUTRITOIN