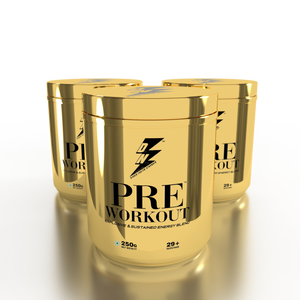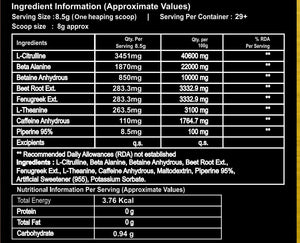 Description:
A scientifically formulated pre-workout supplement that boosts your overall performance for optimal results – Pre-Workout is packed with ingredients that help you push your limits. It is an amalgamation of L-citrulline that promotes pump, beta-alanine that improves endurance, betaine anhydrous that perfects overall performance, L-theanine that improves concentration and caffeine to keep you up, alert and energized.
Delivery of this product may take 8-10 working days
Disclaimer:
All images are for representation purpose only and the actual product may differ.
Benefits
L-citrulline (3.4g) boosts pump and blood flow
L-theanine (263mg) improves concentration
Caffeine (150mg) improves attention and performance
Contains no arginine
Recommended Consumption:
Consume before workouts for optimal results
For better performance, consume Pre Workout along with EAA
After 6 weeks of consumption, take 1 week off to lower caffeine tolerance
Directions:
Mix 1 heaping scoop of Pre Workout Gold Series in 300 ml of chilled water
Shake vigorously
Consume 30 mins prior to workout