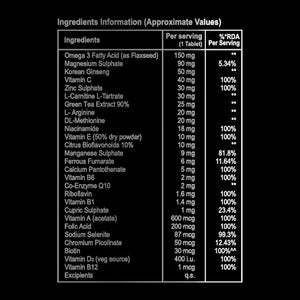 Description:
A comprehensive multivitamin supplement – Prolant Multivitamin contains a blend of over 27 vitamins and minerals for holistic mental and physical health. It is an effortless way of achieving your daily micronutrient requirements and living an active lifestyle.
Disclaimer:
All images are for representation purpose only and the actual product may differ.
Benefits
Boosts immunity
Improves mental and physical health
Directions:
Consume one tablet daily with meals for optimal results
FAQ
Divine Nutrition Prolant Multivitamin is a comprehensive blend of over 27 vitamins & minerals.
Multivitamin supplements help you in achieving you daily requirement of micronutrients which in return helps with mental & physical health.
Good Products
main Amritsar punjab se hu😊 Bahot hi Ache product hai sabi maine Whey, Multvitamin, Nitramax, Pre Workout, Fish Oil, use kiya aur Kar raha hu, Result bahot acha hai aur Quality toh Verg Good🙏❤️
Medicine smell aati hai bahot
Medicine smell aati hai bahot baki company ki smell ni aati isme smell aati hai usse thoda improve Karo taki khane kaa Mann kare