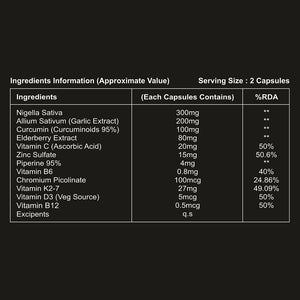 Description:
A comprehensive blend of antioxidant-rich herbs, vital micronutrients, vitamins and phytochemicals – Immuno Essentials supports overall health and fitness while significantly boosting immunity and fighting illnesses. It is enriched with ingredients like curcumin, elderberry, nigella sativa, zinc and more.
Disclaimer:
All images are for representation purpose only and the actual product may differ.
Benefits
Anti-inflammatory, anti-oxidative properties
Boosts immune system and improves immune response
Protects the body against illnesses
Recommended Consumption:
Consume one serving (2 capsules) daily after breakfast
Directions:
Consume 2 capsules every day after breakfast for optimal results and to boost immunity
FAQ
Divine Nutrition Immuno Essentials is formulated based on the latest scientific literature to ensure it is effective & efficient in improving your Health. It is a combination of powerful herbs & Vital Nutrients that plays a key role in Immune Function.
Phytochemicals are plants chemicals that have protective or disease preventive properties. They have high Antioxidant activity which protects our cells against oxidative stress/damage.